Nikki Sanders has a 4-year-old daughter, and like most kids her age, she loves going to McDonald's. Of course, the kids don't go there to eat the food. It's just the experience of McDonald's they crave, and most of the time they don't even eat the food you purchased for them.
This happened to Nikki recently at a McDonald's in Tamworth, England. After buying her daughter a Happy Meal, her daughter decided she wasn't hungry. Nikki didn't want to throw the food away, so she started to nibble on a few of the McNuggets.
"I just took a bite from a chicken nugget and it tasted odd. I suddenly saw a pink stringy thing hanging down and spat the rest of the nugget out into the bag. I couldn't believe it, I just felt sick."
As you can see in the photo below, it looks like a worm hiding inside the nugget. Nikki's husband, Neil, was also inside the restaurant. He told reporters that he believes it was a worm, but he can't "swear" it's one until the tests come back.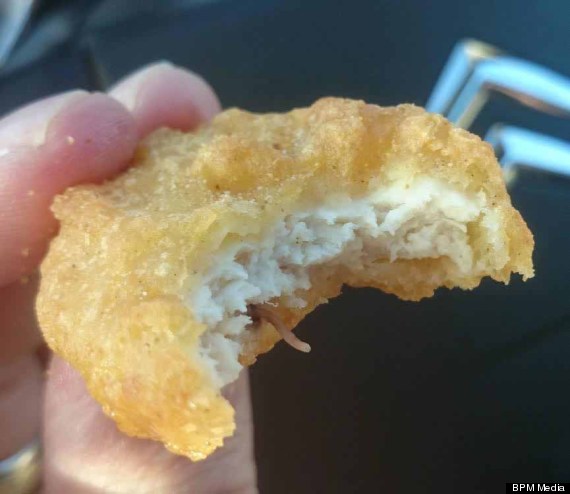 Meanwhile, Nikki claims this disgusting incident has made eating healthier a lot easier.
"I'm just thankful Emily decided she didn't want her Happy Meal. One good thing has come out of this, though. It's turned me off processed meat. I'm eating a lot healthier now."
An investigation into the wormy nugget has been launched. According to the Birmingham Mail, the nugget has been sent to a specialist.
Honestly, if that was a worm, it was probably the healthiest thing packed inside that modified nugget.
Source: Huffingtonpost
Comments
comments

<!-comments-button-->